Important Notice!
The wheek.it link shortening service was retired on March 1, 2014. Information on this page may be outdated or inaccurate.

2014 Featured Rescue #1: LA Guinea Pig Rescue
LA Guinea Pig Rescue is a private, no-kill guinea pig shelter operated out of Chatsworth, California.
The rescue founder, Saskia, is a lifelong guinea pig lover who has been involved in cavy rescue for over 10 years. She dedicates all of her spare time to actively improve the lives of the animals she deeply cares about.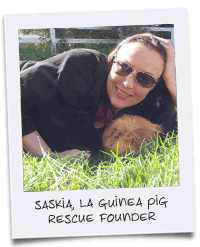 What makes LA Guinea Pig Rescue unique and deserving of being featured is their strict commitment to "no-kill", willingness to work in tandem with local authorities to rehabilitate and re-home abandoned and neglected guinea pigs, and resourcefulness in attracting and retaining volunteers.
Check out LA Guinea Pig Rescue on Facebook and tell them, "Congratulations!"
For more information about LA Guinea Pig Rescue, and to find adoptable guinea pigs or make a direct donation, visit their website at http://www.laguineapigrescue.com.
2014 Featured Rescue #2: Wee Companions Small Animal Adoption, Inc.
Wee Companions is a 501(c)3 non-profit whose specialty is in the rescue and rehoming of small furry exotics including, guinea pigs, rats, hamsters, mice and rabbits. Wee Companions has been rescuing small animals since 1998, and they've been doing an amazing job at it.
In 2011, Wee Companions served more animals in need than any previous year, taking in nearly 800 homeless animals. If you stop to think about this number, it's really quite amazing. Keep in mind that Wee Companions is run entirely on volunteer power, and funding comes from the generosity of supporters; no government money is involved.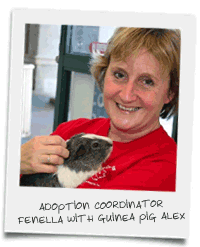 Among the many reasons why Wee Companions is deserving of wheek.it featured status, a few really stand out:
The provision of high quality food, proper environmental conditions, and appropriate veterinary care for the guinea pigs in their care
The education and support to guinea pig caretakers in the appropriate care of guinea pigs
The commitment to find loving permanent homes for the guinea pigs they rescue
For more information about Wee Companions, and to find adoptable guinea pigs or make a direct donation, visit their website at http://weecompanions.org/.